Our History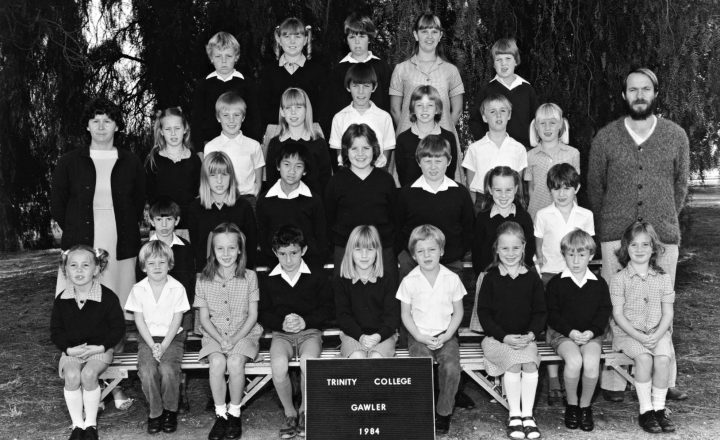 The Trinity College story began in 1984 when a small group of committed families from Gawler began operation with 27 students in the hall at St George's Anglican Church.
In 1985 the College moved to its current location of Alexander Avenue in Evanston South and expanded to sites at Craigmore and Angle Vale. Since then Trinity College has undergone significant growth and development but remains an institution that adheres to its founding principles.
Trinity College is open to all who would like their children educated in a liberal and Anglican tradition regardless of their economic status or religious affiliation.
The vision and pioneering spirit of dedicated staff, parents and students has seen Trinity College grow into an extraordinary educational institution offering preschool to Year 12.
Now into its third decade of operation, Trinity College has become widely recognised for the realisation of its stated ethos - excellence for all.
Trinity College Historical Timeline
1984 - Opened at St Georges Parish Hall with 27 students
1985 - Moved to the Evanston South site
1988 - First Presentation Ball is held
1989 - First College DUX announced, the Iacopetta Shield establised
1991 - Trinity College Blakeview opens
1991 - Trinity College Chapel opens
1993 - Trinity College North and Trinity College South open
1994 - Blackham Environmental and Conservation Centre opens
1995 - Trinity College Foundation established
1996 - Trinity College Montessori Preschool opens
1996 - Trinity College Old Scholars Hockey Club established
2000 - Trinity College Gawler River opens
2000 - STARplex opens
2006 - Trinity College Senior opens
2006 - Trinity College Old Scholars Football Club established
2007 - Trinity College Old Scholars Cricket Club established
2014 - Trinity College celebrates 30 Years of Operation
2017 - Trinity College Pavilion opens
2017 - Trinity College achieves a Guinness World Record
2019 - Multipurpose synthetic hockey pitch and tennis courts open
2019 - Trinity College Old Scholars Tennis Club established

2020 - Trinity Innovation and Creativity School opens
2021 - Trinity College Gawler River Early Learning Centre opens
2023 - Marnkutyi Parirna Performing Arts Theatre opens
2024 - Trinity College Roseworthy opens
2024 - Trinity College celebrates 40 years of operation