Trinity Retains Intercol Trophy
September 11, 2020
Thursday Sept 10 was the date for the 'Shield' sports of First XVII Football, Open Boys Soccer, Open Girls Soccer, netball and basketball – all hosted at Trinity. Whoever wins the majority of these match-ups wins the Intercol shield for the year.
This year, in front of terrific home support, Trinity retained the Intercol trophy with wins in three of the five showcase games, which included two absolute thrillers.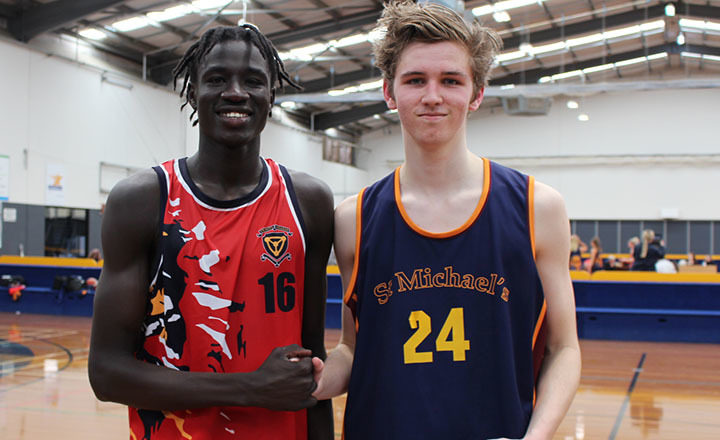 Basketball
Trinity 80 def St Michael's 66
Medalists - Ayual Garang (TC), Toby Woolcock (SMC)
Each year Trinity enters the annual Intercol matchup against St Michael's as the unbackable favourite and each year a plucky and resilient St Michael's take up to the basketball power and makes a game of it. This year was no exception. Trinity won only one quarter of the intercol this year, but it was enough to escape with a scrappy 80-66 win.
The St Michael's transition game capitalised on a misfiring Trinity offense for a 12-11 quarter time lead, but Trinity, spung into action by St Michael's, countered with a 24-7 second quarter for a 36-20 lead at the half. St Michael's hung around and continued to frustrate Trinity, who were creating advantages but not captialising. A 22-20 quarter for the visitors kept them in touch, but Trinity was able to keep them at bay in the last – a 22-22 final quarter enough to keep Trinity basketball undefeated in Intercol play.
Ayual Garang was relentless at both ends for a team-high 18 points, AJ Day was one of the few efficient shooters with 17, and Kalani Sapwell had a 16-point-10-assist double-double to keep the Trinity engine running. St Michael's get the moral victory, but Trinity get the shield points in this one.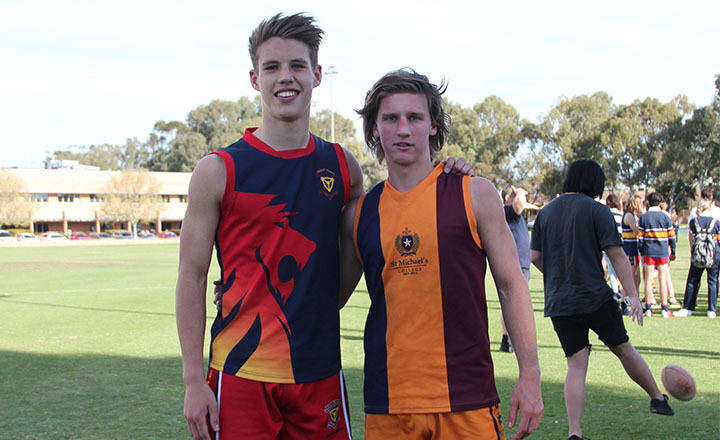 Football
Trinity 12.6.78 def by St Michael's 11.18.84
Medalists - Hudson Cole (TC), Zac Buck (SMC)
An incredible game on Waldeck Oval for the annual intercol game between Trinity and St Michael's. The sun was out, the wind was blowing and the boys were excited. The game started with Trinity hitting the scoreboard early and taking a three goal lead into the first break. Unfortunately it came at a cost when brave defender Jackson Penrose came off with an ankle injury at the ten minute mark.

Kotsano and Clements were huge in the early parts of the game ending with 4 and 2 goals respectively. But it was the run and ball use off half back from Hudson Cole and Josh Pearson that truly kept Trinity in the game against the wind in the second. Scores locked away at 48 each at the main break.

In the third quarter one of the most experienced Lions, Riley Partington started to impact the contest kicking two vital goals whilst getting his hands dirty in the midfield. Youngsters Jackson Clonan, Lewis DeRuvo, Trent Tatolli and Bailey Hoare all had big moments but it was Joseph Fenwick that impressed the crowd with his huge work-rate and freakish touches.

At the last break Trinity held the lead by two and a half goals but it was always going to be a challenge with St Michael's kicking with the wind. The boys did a fantastic job defensively but unfortunately St Michael's kicked two incredible last quarter goals to take the win by 6 points. A great game played in fantastic spirit, lead extremely well by injured captain Harry Collins who played the last game of the year with a broken nose. Both teams should be extremely proud.
Bests: Cole, Pearson, Kotsano, Wilkin, Fenwick
Goals: Kotsano 4, Clements, Partington 2, Schmidtke, Fenwick, Gilchrist, Walling.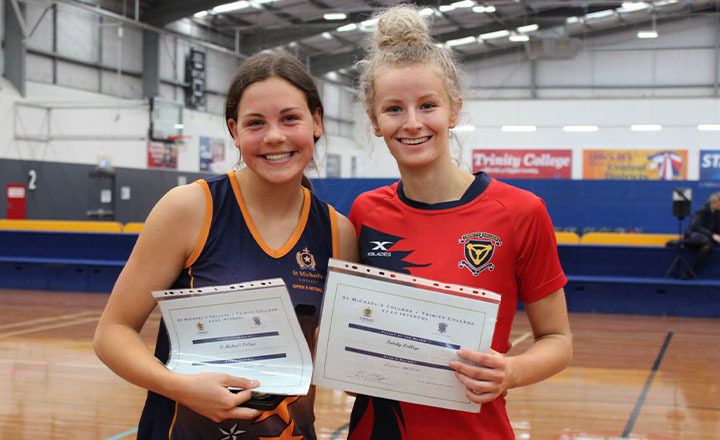 Netball
Trinity 59 def St Michael's 35
Medalists - Alyssa Jones (TC) Taylah Dawkins (SMC)
In a dominant first quarter display we clearly were winning each of the positions on court. The defensive pressure was first class, particularly in the defensive circle with Alyssa and Zahra combining well to force turnovers and poor shots on goal, out positioning their opponents and winning contested rebounds. Our attack was also on fire, moving the ball with speed and precision into the circle where our goalies connection (Tatum and Ash) caught their defenders off guard and often behind play. We lead 17-5 the end of the first.
The second quarter was much of the same and at the main break we were up by 23. The second half saw a more physical contest from St Michaels, who came out fighting and with more of a game plan. We started to make poor decisions with ball in hand and unforced turnovers came aplenty. Winning the second half by 1, resulted in the 24 goal victory. Alyssa Jones was awarded the best on court for Trinity, with an impressive defensive game pulling in multiple rebounds, taking intercepts and deflections which lead to turnovers. A great team performance. Congratulations girls.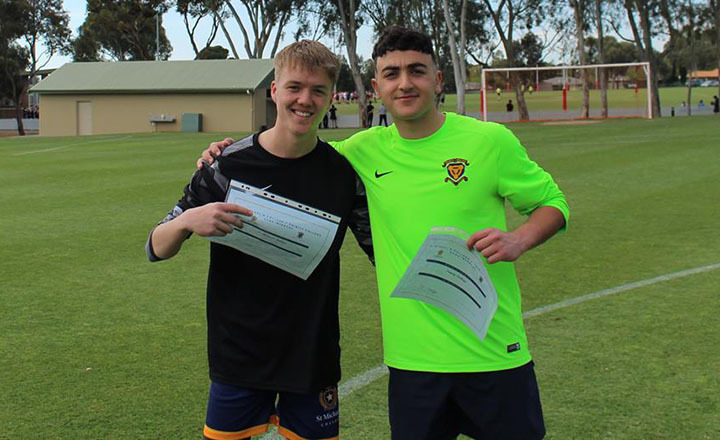 Soccer
Trinity College 1 (4) - 1 (2) St Michael's College
Medalists - Vincent Barbaro (TC), Flynn Martin (SMC)


A number of heroic saves from Barbaro during play and in the penalty shoot-out allowed Tsalamangos to score the winner and seal the Intercol win for Trinity.
Trinity played very well throughout the game and created multiple chances. Thompson took the lead in the second half, however St Michaels equalised shortly after. Trinity continued to press for a winner, but the game finished even at 1-1. Penalties can be a harsh way to lose the game, but in his first game all season after injury, Barbaro was oustanding saving 2 to win it. An amazing spectacle. Well done to all players involved.

Goal: Thompson Penalties: Thompson, Muhoma, Akuien, Tsalamangos
Best (Zorich Sportspower) - Barbaro
2nd Best (Fasta Pasta) - Akuien
3rd Best (Subway) - Tsalamangos, Thompson
Open Girls Soccer
Trinity 0 def by St Michael's 5
Intercol Medalists - Alyssa Leopold (Trinity College), Alyssa De Nadai (St Michael's College)
Trinity held off a strong attacking St Michael's College in the first half trailing 1-nil. This was largely due to the desperate efforts and agility of our stand-in keeper, Alyssa Leopold. With the only high point being a strike by Angelique Vreugdenburg who hit the cross bar; Trinity struggled to maintain possession in the second half losing 5-nil.
SMC Coaches award was Alyssa Leopold. Trinity Coach award was Angelique Vreudenburg