Trips & Tours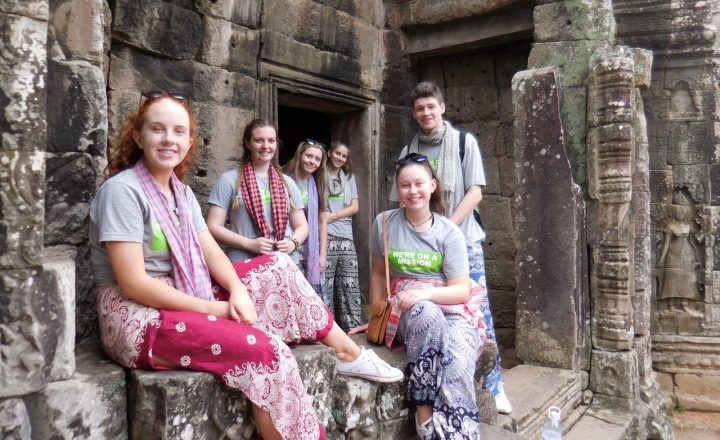 The opportunity for Trinity students to travel abroad occurs either through the language curriculum, service program or competitions.
Chinese and French are among the most commonly spoken and widely used languages in the world and both are taught at Trinity. Additionally, our students have the opportunity to visit China or France every second year as part of our cultural exchange program with our sister schools in these countries.
Through our service program and College Chaplains, students can travel as part of a mission team to Cambodia. In 2017 students visited maternal health and ophthalmic projects organised by 2H Project, micro finance and child protection projects with Friends International as well as spending a day with the Mines Advisory Group International (MAG) to see first-hand the very important work they undertake removing of landmines that are a legacy of the civil war.
Trinity is invited by a variety of organisations to compete in sport, music, academic tournaments and other activities, which have resulted in invitations to travel abroad to represent the College or Australia, as well as interstate competitions.
| Year | Country/State Visited | Purpose |
| --- | --- | --- |
| 2017 | France | Language and history trip, three weeks including homestay with sister school. |
| 2017 | Gold Coast, QLD | Two netball teams (Year 9 & Open) international tournament against schools from NZ, England and Fiji. |
| 2017 | Houston & Washington (USA) | Eight students attended the Robotics World Championships |
| 2017 | Cambodia | Three week mission trip and cultural exchange. |
| 2018 | China | Eight students attended an international robotics tournament. |
| 2018 | Gold Coast, QLD | Two netball teams (Year 9 & Open) international tournament against schools from NZ, England and Fiji. |
| 2018 | Perisher, NSW | Annual College ski trip |
| 2018 | Cambodia | Three week mission trip and cultural exchange. |