Foundation News & Events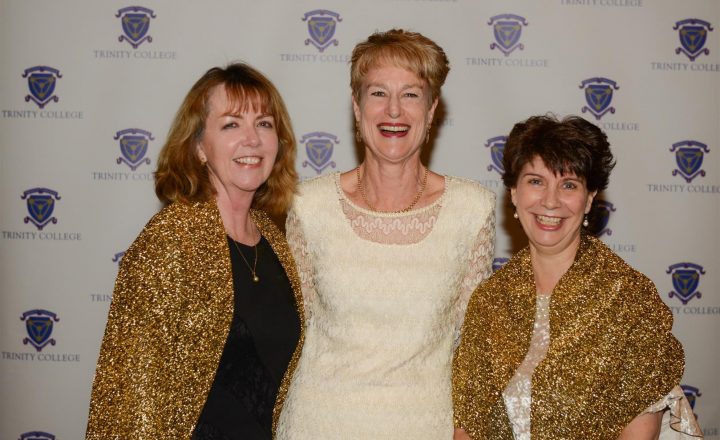 2018 Foundation Gold Gala Dinner
On Friday 3 August, the 2018 Trinity College Foundation Gold Gala Dinner once again attracted a diverse cross-section of our community who gathered in the Ian McLachlan Room at the Adelaide Oval to enjoy this special occasion. Read a full account of the evening's festivities here.

The Foundation Board is pleased to announce that the 2018 Trinity Foundation Gold Gala Dinner raised $35,437.50. The Foundation Board extends their thanks to all donors and volunteers who made the night such a success as well as the Trinity families who donated items towards hampers and baskets that generated $1,247.00 in the silent auction. The 2019 dinner date and theme will be announced later in the year.
We thank our 2018 Sponsors
Platinum - HP
Silver - Campion
Bronze - Academy Photograph, Detail Studio, Konica Minolta, Peter Kittle
Table - William Buck, Orora, Lenovo, Nuago

2018 Melbourne Cup Luncheon
Tuesday 6 November
Trinity College Pavilion, 11.30am - 3.00pm, $40.00 per person

Celebrate the race of the year in the Trinity College Pavilion with a delicious two course lunch. Experience the big race live on screen and enjoy an afternoon of sweeps, a raffle, door prize and fashion parade. Your ticket includes a glass of sparkling on arrival. All proceeds will support the Trinity College Foundation. Download a flyer here. Tickets can be purchased from the Foundation Office or telephone 8523 8754.

Only 100 tickets available so book now.

Foundation News
The Trinity College Foundation offers a number of scholarships to students both internally and externally. Visit the Scholarships webpage for further information and application forms.
Certificate of Academic Merit
The Certificate of Academic Merit is presented to students who make significant improvement in academic areas. The award is designed to recognise and promote academic achievement and is intended to complement other forms of recognition by acknowledging students who might not otherwise be recognised. A total of 16 certificates are presented in Term 3 annually across the College Middle Schools. Each recipient also receives a commemorative book.

2017 Winners

Blakeview
Gawler River

North
South

James Crawford
Shaurab Dhungel
Akuol Gak
Mikayla Tuttle

Hunter Thomson
Kaleb MacMillan
Morris O'Handley
Nikolas Rallis

Gemma Wilkinson
Cassidy Dean
Shyla Nilsson
Dylan Bunder

Jay Hawley
Nhial Kuei
Ella Stomaci
Alex Welford
Foundation Citizenship Medal
Each year the Foundation presents Citizenship Awards to students from all five schools for their overall contribution to the College through personal dedication, strength of character and good citizenship. Recipients may have made outstanding contributions in academic effort and success, sporting contributions and participation, cultural and worship endeavour, House involvement and general leadership and community service outside the College.
2017 Winners

Blakeview
Gawler River

North

South
Senior

Sophie Houston
Taylah Gregory

Taya Webber
Ruby Brabyn

Maisie MacGillivray
Kyle Sambell

Indigo Trayling
Darcie Hancock
Lillian Loveday

Sonia Chen
Jay Goode
2018 Operation Flinders
The Foundation supports Trinity College students to attend Operation Flinders a is a South Australian based charitable organisation that runs a world leading wilderness adventure program for young offenders. The program takes participants between the age of 14 and 18 years on an eight day exercise in the far northern Flinders Ranges, providing an opportunity for its participants to break away from their past and grow as valued members of the community.
Spirit of Trinity Fund
The Spirit of Trinity Fund supports students in a tangible way to continue their schooling at Trinity College. Examples of support are, but are not limited to, uniforms, textbooks, stationary, learning tools, subject related excursions, counselling/professional support and emergency care. Since its inception in 2013, we have supported 86 students at a cost of $35,000.