Basketball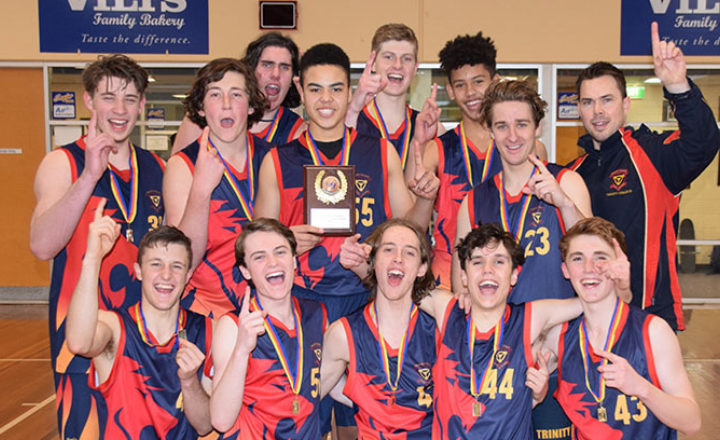 Trinity College provides the perfect basketball pathway for the serious and social player alike. The exceptional four-court STARplex facility, owned by Trinity College, runs programs seven days a week, offering opportunities from Early Years to Year 12.
Trinity College students participate in social programs on Monday and Tuesday afternoons and the more serious players represent the College on Saturday mornings in Terms 2 and 3 in the Sports Association of Adelaide Schools (SAAS) competition.
The College has an excellent relationship with STARplex staff, as well as the Central Districts Basketball Club and other key stakeholders. This enables the Trinity to tailor basketball programs to meet everyone's needs. For example, Trinity basketballers work regularly with former Adelaide 36ERS player and current coach and Director of Trinity College Sport Rupert Sapwell. They have access to high-level athlete development programs conducted by qualified exercise physiologists in STARplex's gym facility, as well as entry-level skills programs run by state-level players as well as state league players from the Central Districts Basketball Club, all coordinated by Olympian Sean Carlin.
For the elite performers, Trinity operates basketball academies all year round, actively pursues college opportunities in the United States for its graduates and is a registered SAT (US college entry) test provider. If you love your basketball, Trinity is your school.
Team Achievements
2018 - Open A State Champions
2017 - Open A State Champions
2017 - Year 8/9 State Champions
2016 - Open A: National Silver Medal
2016 - Year 10 State Champions
2015 - Open A: National Bronze Medal
2015 - Year 8/9 State Champions
2014 - Year 10 State Champions
2014 - Year 8/9 State Champions
2013 - State SAPSASA Champions
2005 - Open A: State Champions